Best Barbie apps, filters and games: made for party, movie
Whether you just want to look like Barbie or Ken on Instagram, or want to delve deeper into the Barbieworld phenomenon, here you will find a guide to the pink universe. We have collected tips and apps for those who found themselves in Barbie Land after the release of Greta Gerwig's sensational film.
Summer 2023 is definitely tinged with pink, and the reason for that is Greta Gerwig's "Barbie", starring Margot Robbie and Ryan Gosling, which sparked a diverce cultural movement of movie theatres queues, millions of selfies, house parties, AI generated Johnny Cash cover of Barbie song and controversial debate between public figures. We can't stay away from barbiemania and have prepared for you a concise hit parade of the best Barbie apps, games, playlists and tips. This Barbie is CCM!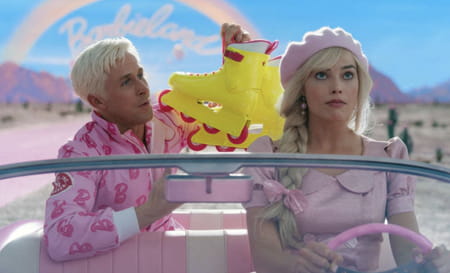 Barbie Selfie Generator - official movie filter for Instagram, TikTok, etc.
Barbie Selfie Generator is an official service from Warner Bros. with which you can easily and quickly transform into Barbie or Ken on the screen of your computer or smartphone. It's free and doesn't require registration. Simply upload your selfie (the app will automatically erase the background), select Barbie or Ken, type in your character's role ("This barbie is..."), choose a colour from the paint palette and, hooray, your poster is ready. Now you just have to click on Download to save the image to your device. You can also tap and hold on the resulting image to directly post it to social networks such as Instagram, Twitter, Facebook, and TikTok.
Fotor - alternative Barbie poster maker
If you do not own Photoshop or other advanced image editor, then you can use a variety of applications with which it is not difficult to make your own Barbie meme or Barbie poster. One of them is the Fotor service. You will have to register and then you will receive 3 gift credits to create your images (you will need to purchase a subscription or credits to continue using the app). The procedure for creating a meme or poster is simple and intuitive.
Barbie lens on snapchat
The official Barbie AR lens filter from Warner Bros. has arrived in the Snapchat app for iOS and Android. With this augmented reality filter, you can dress up as Barbie or Ken.
Pinterest - party idea scrapbook
Online image library Pinterest is your ultimate and perfect source of inspiration when you're heading to a party and planning your Barbie (or Ken) outfit, makeup and accessories to look as good as Billie Eilish or Dua Lipa. Whether you want to be a Superstar Barbie, a horse rider or even a gothic Barbie, here you'll find all sorts of options to suit every taste.
Photoleap - filter app for TikTok
If you are a member of the TikTok community, the third-party app Photoleap, available for both Android and iOS, may be helpful for you to join the pink wave. This tool has tons of makeup filters like eyeliner, lipstick, blush, skin cleansing and teeth whitening and so on. upload your photo and then work with filters. The application offers only 7 days of free use (however, during this period you can unsubscribe).
Barbie Dreamhouse Adventures
Barbie Dream House Adventures is the best multiplayer game in the Barbie universe. You'll explore Malibu in a pink Barbie convertible and get to know the entire Barbie family. In this world builder, you decorate your home, prepare festive dishes and sweets in the kitchen, ennoble your garden, arrange fun and entertainment... Of course, as in other similar games, it contains in-app purchases.
The official soundtrack of the "Barbie" 2023 movie
There are several Barbie-themed playlists on the Spotify, including the official soundtrack to the movie titled "Barbie: The Album". Here are the songs from the film performed by Lizzo, Dua Lipa, Nicki Minaj & Ice Spice, Charli XCX, KAROL G, Sam Smith, Tame Impala, Ryan Gosling, Dominic Fike, HAIM, Billie Eilish, The Kid LAROI, Khalid, PinkPantheress, GAYLE and Ava Max.
"LA Made: The Barbie Tapes" podcast
Since the 1950s, when the first Mattel's Barbie appeared, this doll and our world have gone through many transformations... The podcast "LA Made: The Barbie Tapes" is hosted by M.G. Lord, author of "Forever Barbie: The Unauthorized Biography Of A Real Doll," and Antonia Cereijido from LAist Studios. Together they reflect on the history of the Barbie doll and the significance of the Barbie phenomenon in today's society.
Can I watch "Barbie" movie online?
And now sixty-four-thousand-dollar question. Is Greta Gerwig's "Barbie" movie available to watch online? So far, the stellar movie is only available in theaters, but it will probably appear at some point on Max streaming platform (formerly HBO Max), and later, we can assume on some other popular platforms.