Old School RuneScape is a nostalgic, fantasy MMORPG with a vibrant and engaging community. Based on RuneScape, it features a unique, retro-style graphical design and an immersive, open-world setting full of ancient myths and traditions. The game's atmosphere is relaxed and friendly, with plenty of opportunities for socializing and exploration.
Plot
Old School RuneScape is set in a fantasy world based on medieval Europe. The game is set in the kingdom of Gielinor, divided into different regions, cities, and towns where many gods and divinities have influenced the world. You are one of the many adventurers who must complete quests, level up, and fight monsters to progress and discover all the mysteries of this world.
Gameplay
Explore: The world of Old School RuneScape is composed of several different regions, each with its unique characteristics and challenges. Some of the most iconic regions are the Wilderness (a dangerous area where players can fight each other, as well as monsters), Asgarnia (a peaceful place filled with small villages and bustling cities, home to many of the more basic quests in the game, such as the Cooks' Guild and Demon Slayer), Morytania, the Kharidian Desert, the Fremennik Isles, or the Land of Snow.
Combat system: Old School RuneScape features a semi-real-time combat system where your combat skills, weapon, and armor will make the difference. Additionally, players can use special attacks, prayers, potions, or curses to increase the damage they deal or weaken the opponents. And don't forget to summon a familiar as they can be of great help to assist you or boost your combat skills.
Combat trilemma: Combat uses a rock-paper-scissors system of attack styles, as you can choose between Melee, Ranged, and Magic. Each attack style is strong or weak against another attack style, allowing players to use strategy to their advantage. There is no specific character class bound to melee, ranged, or magic, as your combat category depends on your weapons and armor, and you can even mix the three of them if you like.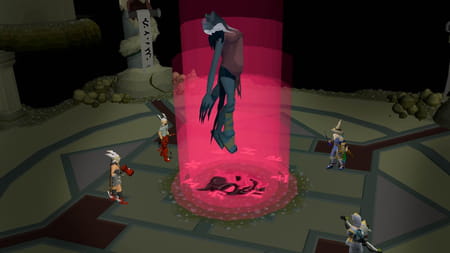 Community-driven: Many features have been added through the years, and the developers keep bringing more content to the game. But the funny aspect is that updates are primarily decided by in-game polls, giving the player community power to determine how the game evolves.
Cross-platform: As the game can run on many platforms, all your data stay bound and synced to your account so you can keep playing from any supported devices seamlessly.
Quests: Infinite discoveries await you as the game features hundreds of diversified quests, combining puzzles, battles, and enchanting narratives. That's one exciting aspect of the game, as lore-rich quests will make you rediscover the secret to rune magic, help Yanni Sallika with "just one small favor", or uncover the mystery behind the devastating plague in West Ardougne.
Membership advantages: Even though lots of content are available for free, you can unlock even more content, like many additional quests, eight additional skills, a three-time larger world map, and much more.
Skills: Old School RuneScape features 23 skills that allow you to interact with the world, grouped into three categories, including Combat, Artisan, and Gathering. Combat skills such as strength, magic, or range help you defeat enemies. Artisan skills aim at crafting goods and objects, like cooking, smithing, and more. Finally, gathering skills allow you to collect the world's resources, like mining, woodcutting, or fishing. Note that the more you use a skill, the more you earn experience, level up that skill, and can use it efficiently.
Seasonal competition: Players will live thrilling seasonal events during holidays (like Easter, Halloween, Christmas, or the Birthday event), where they can access seasonal quests and earn special rewards.
PvP: The game features player-versus-player modes similar to minigames, like the Deadman Mode or Leagues, where you will face other players in different scenarios. Depending on your PvP experience, you may take advantage of accelerated experience rates and unlock special permanent perks to multiply rewards and experience.
Bestiary and dungeons: You will face many dangerous monsters and bosses throughout your journey, so be prepared to try your luck against undead dragons, Vampyres, or volcanic monstrosities, because every battle might be worth risking your life.
Graphics and sound
The graphics of Old School RuneScape are relatively simple but still maintain a sense of charm and nostalgia. In addition, the game's sound effects are classic and quite memorable, adding to the overall atmosphere.
Duration and game modes
The game offers a multiplayer experience you can enjoy for hundreds and hundreds of hours.
What do the reviews say?
Old School RuneScape is a very successful RPG video game rated Very Positive by over 12.000 players on Steam.
Age rating
Old School RuneScape is rated PEGI 16.