Pokémon World Online is a free MMO fanmade video game offering an experience mixing the original Pokémon and multiplayer features. Combining Kanto and Johto cities, a brand new interface, hundreds of Pokémon, Gym Leaders, Badges, and the ability to challenge other players online, you will love it.
Gameplay
Battle: PvP and NPC battling is an important part of the experience so that you can challenge and battle against other players online and offline, no matter where you are.
Chat: You can access an online area where you can ask for help or request battles and trades. The private messaging system lets you chat with other players.
Create maps: This innovative built-in feature empowers you to build your own maps using the map editor. Once you get the mechanics, you will unleash your creativity.
Battle Tower: This facility adds another pinch of challenge. Try your luck beating all your adversaries battle after battle, and win exclusive items.
Kanto and Johto: You will rediscover the Kanto and Johto regions, which have been fully realized with their Gym Leaders and Badge system. It is a cornerstone as it allows you to get this feeling of progression, mixing challenge and balance.
Catch'em all: Over 300 Pokémon are available. Be ready for the next battle and catch as many Pokémon as possible to become the best Pokemon trainer. Train your Pokémon consistently, make them earn experience, and evolve.
EV and IV: The EV and IV systems let you evaluate the potential of every Pokémon. EV stands for Effort Values and dictates Pokémon final stats. IV stands for Individual Values and dictates why one Pokémon has better or worse stats than another of the same species. Those two sets of stats are useful for selecting the best ones and saving time.
Evolution stone: This is a type of item you can use to decide and make Pokémon evolve to a given stage. Hence, you can get several variations of the same Pokémon species in your team for more diversities.
Store and trade: As your team can be composed of a maximum number of Pokémon, you can store others thanks to the Pokémon Storage System. And it doesn't stop there because you can trade Pokémon and items with other players.
More adventures: The content is regularly updated and improved. Several quests and frequent events will also spice up the whole journey. And yes, you can fish, ride bicycles, and surf!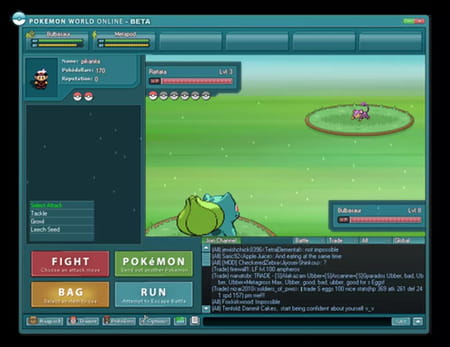 Graphics
Pokémon World Online features graphics based on the Pokémon FireRed and LeafGreen versions, with some parts from the Pokémon Emerald version. Hence graphics are pretty good, and it even includes the day and night system with all its subtleties.
Duration and game modes
Pokémon World Online offers a multiplayer online experience. You can play for dozens of hours and more if you want to keep competing with other players.
What do the reviews say?
No official rating is available, but the Pokémon player community seems to be quite active in this game.
Age rating
To protect the privacy interests of minors, children under the age of 18 are not allowed to participate in any service provided by Pokémon World Online (this is mainly due to the private messaging system from where you can chat with other players).
check out our tips and tricks for pokémon games