Everything about Android 14: new features, customization
The new version of Google's operating system has arrived: Android 14! It is an update already being introduced gradually, so it's just a matter of waiting for it to reach your mobile or tablet device. Learn more about the new features it brings, whether your cell phone is compatible, and how you can download the latest version of Android.
When does Android 14 arrive?
The final version of Android 14, known internally as Upside Down Cake, was released on October 4, 2023. As is the case with the arrival of new Android versions, the Pixels will be the first handsets to be updated to the new Android 14. In the coming months and during 2024, phones of other brands will be able to be updated.
If your cell phone is compatible with Android 14, it is already on the waiting list. First, it is necessary for manufacturers to adapt the recent operating system to their devices, whether cell phones or tablets. As is always the case with updates, this latest version of Android will arrive progressively once the operating system has been tested to avoid errors. The rule is that the most recent mobiles and tablets are the first to receive the update, being the high-end ones that have more guarantees to be updated and to do it first.
It had several beta versions, as we mentioned at the time. The first beta for Android 14 developers appeared in February this year and, since April, an updated beta version (1.1 and 1.2) was available for users who wanted to test it on their Pixel 4a 5G phones or higher.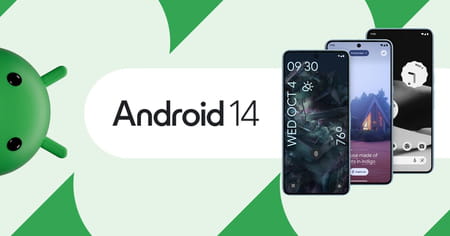 How to install Android 14
We still do not know exactly which phones and tablets will be updated to Android 14. For the moment we can only assure you that Google's Pixel phones are the first to receive the update.
If you have a Pixel 4a 5G or higher (i.e. up to 8 Pro) and you already want to install the update, this is how you can do it:
Go to Settings > System > System Update.
However, it's best to wait for the OTA (a software distribution method), which may take a little longer to arrive. The rollout is gradual, so it can take days or weeks for the Pixel.
For the rest of the phones, the update is estimated to start in November, approximately. Brands such as Samsung, Xiaomi, OPPO, Nothing, OnePlus, and Sony will publish their Android 14 update schedule, as well as their own means to update their devices. They usually send out an update notification when it is available for the handset.
What are the new features of Android 14?
This new version of Android does not differ too much from the previous version. However, there are new features worth mentioning.
Battery consumption saving
The new version consumes less battery by optimizing application algorithms and improving background processes. In addition, the system prioritizes app tasks and gives the user more control to decide on periodic date and time checks by apps.
Improved text readability
In Android 14 it is possible to significantly increase the size of text displayed on the screen, making smartphones more easily readable both in poor lighting and for people with impaired vision. Android 14 allows font sizes to be increased by up to 200%.
Improved gesture navigation
The latest version of Android improves gesture navigation. For example, there is an arrow on the screen that allows you to quickly return to the previous screen and, in addition, before returning, you can preview the section of the system to which you would return, so you avoid going back by mistake. Its color will match the color palette of the screen being used at the time, and the animation displayed will also change.
More customization in notification volume, ringtone, measurement shape, and clock
Upside Down Cake allows you to configure the ringtone and notification sound volume separately thanks to the appearance of different sliders responsible for these functions. On the other hand, regardless of their location, the user himself can select directly on their device the measurement system of their preference: metric (centimeters, meters, kilometers...) or imperial (inches, feet, miles...). In addition, the clock widget has been improved: the color and size of the clock widget can now be selected.
Increased security and privacy
As is usually the case with updated versions of its mobile operating system, Google provides extra protection against the latest malware threats. In particular, with the addition of Advanced Memory Protection, it prevents at a hardware level apps from infecting devices with malware and stealing user data. This applies to apps designed for older versions of Android where there is a possibility of hosting malware. Android 6 becomes the cutoff version for installing apps, which means that apps from earlier versions simply cannot be installed on a device running Android 14.
In addition, some actions, such as making purchases or sending a transfer, will not be available without using a trusted accessibility service such as TalkBack. Google also includes new APIs for developers, shields access to sensitive areas of the phone, and improves access control to the photo and video gallery.
More security in PIN code entry
Among the security enhancements, Android 14 allows you to disable the animation when entering the PIN code, which increases security during login. This means that when you press the buttons on the keypad, they do not highlight, and you no longer need to press the Enter key to confirm the six-digit PIN. Finally, you can activate a function that hides the numbers as you type them, another privacy enhancement.
Other customization options
Android 14 comes with other revamped customization options such as:
– The ability to add custom shortcuts on the lock screen. There are also more possibilities to customize the lock screen, which is based on templates where you can swap new fonts and backgrounds.
– Minimized clipboard preview to take up less space, showing only the clipboard icon and an arrow to see the whole clipboard only when you need it.
– A more colorful version of Material You to customize the theme colors on your device.
– A transparent navigation bar in all apps.
With the new version of Android, Google improves the menu for sharing content and links and also increases the interaction of Google Assistant with other apps, including app synchronization between smartphones and wearables.
Support for flash notifications
Now, when flash notifications arrive, you can set various types of flashes depending on the notifications you receive.
Application-specific recording
Android 14 includes enhancements that allow you to record a particular app instead of the entire phone screen. This way, notifications and other items that may appear on the screen during recording will not be captured.
Which phones are compatible with Android 14?
Android 14 at the moment can only be installed on Google Pixel phones: Pixel 8, Pixel 8 Pro, Pixel 7, Pixel 7 Pro, Pixel 6, Pixel 6 Pro, Pixel 5, Pixel 5a 5G, Pixel 4a 5G. However, as we mentioned to you in the first section, major smartphone manufacturers, such as Samsung, Xiaomi/Redmi, and OnePlus, will present their flagships, and new models are expected to be the next to receive the updated system, in particular the following:
Samsung Galaxy Z Fold 5 and Galaxy Z Flip 5
Samsung Galaxy S23, S23 Plis, S23 Ultra
Samsung Galaxy Z Fold 5 and Galaxy Z Flip 5
OnePlus 11
do you need help with android? check out our forum!