Best backup software: Windows, PC, cloud
Losing your data forever is perhaps the worst thing that can happen. Here we list some of the best and most affordable backup software solutions and cloud services for Windows users.
Popular cloud storage, such as OneDrive or Google Drive, keep your files in sync across all your devices but doesn't provide a complete and automated backup. If you want to guarantee the safety of your data, you will need special backup services, which can be divided into two main groups. Сloud backup services will automatically make copies of your files and store them in the cloud. In addition to backing up files, there are also programs that clone your entire system on a separate hard drive or network drive (NAS). The choice of one or another service depends on what type and amount of information you want to save, as well as on a variety of additional features and parameters, such as virus protection, the number of computers supported, the ability to work in a team, etc. Backup solutions are also beneficial for replacing a hard drive with a new one without losing data or setting up a new PC without reinstalling the operating system.
Acronis Cyber Protect Home Office
Acronis Cyber Protect Home Office (formerly Acronis True Image) brings the most features for disk partitioning and backup for Windows, and at a very good price for such a complete solution. However, you can choose whether to save only files or the system as a whole. You can also decide how often backups will be created. The $49.99 Essentials 1-year subscription includes backup and restore to a local drive, external USB drive, shared folder, or NAS device for a single computer. If you also want cloud backup, Office365 online data protection, and malware protection, you'll need the Advanced or Premium packages, which cost $54.99 or $124.99 for a year (for one device).
R-Drive Image
R-Drive Image creates a copy of your entire computer and stores it as virtual drives on removable storage such as CD-R(W)/DVD, Iomega Zip or Jazz discs, etc. This program is especially good for restoring your system after an operating system crash, hardware failure, or virus attack. In addition, its advantage is that it does not work on a subscription basis but gives you a lifetime license. The basic Lifetime License package, which provides drive imaging and backup, system restore and disk copy, scheduler and unattended actions, partition manager, and imaging of files, costs $44.95 (you can try it for free during 30 days period).
EaseUS Todo Backup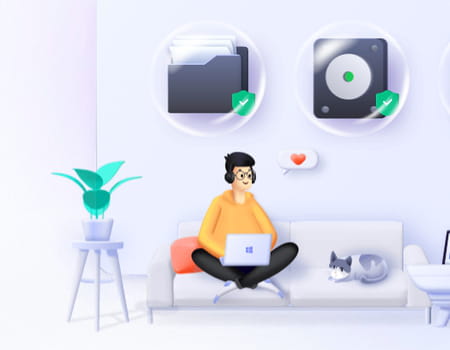 However, you can use a free service to make a backup copy of your data. With EaseUS Todo Backup Free, you can create backups of the disk, partition, OS and files and save backups to local drives, external hard drives, NAS, network, and cloud. The service offers convenient, intuitive tools for various tasks, making it easier for you to plan the backup process. The paid version "Home" contains additional features, including disk/partition clone, system clone, saving Outlook mail, and the function of transferring the system to another PC. The paid version costs $39.95 per year, and there is also a version for businesses for $49 per year.
IDrive
IDrive is a cloud-based service that works across multiple PCs, Macs, iPhones, iPads, and Android devices without additional licensing so that you can use the same account on all of your devices. Its working principle is very similar to Apple Time Machine: you can restore a file at any point in its history. You can also set up a Sync folder that will automatically transfer the files you put in it to your devices. The advantage of the service is that you get 10 GB of cloud space for free, which allows you to test this service. If you like it, you will have to pay a substantial amount: 5 TB costs $59.62 per year, and 10 TB costs $74.62. There are also teams and business plans.
Backblaze
Backblaze is a cloud-based, secure service that works with Windows, macOS, Android, iOS, and iPad. It stores unlimited copies of documents, images, videos, or other types of files but does not take care of the operating system, applications, or temporary application data. You can also access your files from your mobile devices or the browser. File versions are automatically kept for 30 days, which is great because you can revert to older versions created during that time period. You can buy additional features: download all files to an external drive or USB drive. The $7 per month fee for unlimited storage with 15 days free trial period seems like a good deal (also $70 per year and 130 per 2 years). There is also a business model that can protect additionally virtual machines and database structures. The B2 cloud storage service will also be of interest as it provides enterprise-grade services and will even help you migrate data from Amazon S3.
HAVE MORE COMPUTING QUESTIONS? CHECK OUR FORUM!