How to connect AirPods: to Mac, iPhone, Android
If you have recently purchased a pair of AirPods, you will be wondering how you can connect them to your preferred devices. In this article, we will guide you through the process of how to connect AirPods to Mac, iPhone, and Android with ease.
How to connect AirPods to your MacBook
Turn on the Bluetooth on your MacBook.
Put both AirPods in the charging case and open the lid.
Press and hold the setup button on the back of the case until the light flashes white.
Select your AirPods in the Devices list on your laptop, and then click Connect.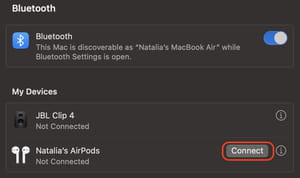 How to connect AirPods to iPhone
Connecting your AirPods to an iPhone, iPad, or iPod Touch is simple.
Firstly, you will need to make sure that your device has been updated to the latest version of iOS or iPadOS.
On your iPhone or iPad, go into the Settings > Bluetooth and turn on Bluetooth.
Place your AirPods case next to your iPhone. The device should automatically recognize AirPods.
Follow the onscreen instructions to finish connecting the AirPods
How to connect AirPods to Android
If you have a non-Apple device, it is still possible to set up your AirPods with an Android device.
On your Android device, go into Settings > Connections > Bluetooth to turn on the Bluetooth settings
With your AirPods charging case, open the case and then press and hold the setup button that can be found on the back of the AirPods case for five seconds. The light will begin to flash white.
Your AirPods should then appear in the list of Bluetooth devices.
Any more headphones questions? Check out our forum!