Grand Theft Auto 2 (or GTA 2) is an action-adventure game developed by DMA Design and published by Rockstar Games. Welcome to Anywhere City where gangs and criminals rule the world against the police forces. But don't fool yourself: you are not what they call a good person, so do what you got to do, don't get killed, and earn respect.
Plot
You are Claude Speed, a young thug eager to climb to the top of the criminal world hierarchy by committing everything you have to, no matter what. Throughout your journey in the retrofuturistic city of Anywhere City, you will work for gangs and criminal organizations to inch your way to the top. But don't be too confident, as cops will try to hunt you down if you become too popular.
Gameplay
Explore: You will explore Anywhere City and its 3 different sectors, including Downtown, Residential, and Industrial. Each sector is populated by three gangs and bosses who will give you missions via payphones.
Missions: You will follow a linear progression through the levels as you must score a number of points to get to the next screen. Points can be earned through gang missions, criminal actions, selling vehicles, and destroying cars. For example, as you work for one gang, you will earn respect by killing other enemy gangs and unlocking more rewarding missions. And as an incentive, remember that once all the levels are completed, you may unlock some bonus stages.
Visit the church: Remember to find and visit the Jesus Saves church to save your progress. You can find it by listening out for the organ playing or by hijacking a TV Van and following the direction of the antenna on top of it. God's mercy is not free though, as you must pay $50,000 to save.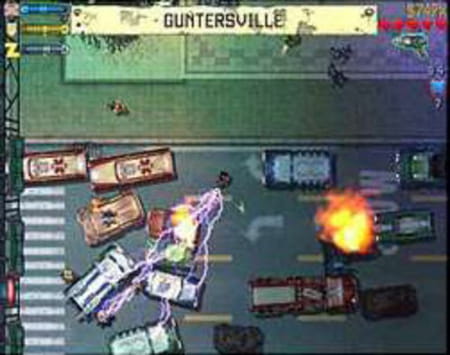 Vehicles: A massive collection of vehicles is available depending on the district. Vehicles are split into several categories, including Sports and Muscle Cars, Standard Cars, Trucks and Vans, Public Service, Government and Emergency, Gang Cars, Trailers, and more.
Weapons: New weapons are introduced, like Dual Pistols, the Silenced S-Uzi Machine Gun, Shotgun, ElectroGun, Molotov Cocktails, or Grenades. Of course, weapons from the first title have been improved, including the Pistol, S-Uzi Machine Gun, Flamethrower, and Rocket Launcher. Last but not least, vehicle-based weapons are available, like Vehicle Mines, Vehicle Oil Slicks, Vehicle Bombs, and more.
Evade duty: The more you commit crimes and bad actions, the higher your wanted level will become. The wanted level's limit has a different maximum depending on the area; the Downtown District has a maximum of 4, with a SWAT team chasing you; the Residential District has a maximum of 5, with FBI agents pursuing you; the Industrial District has a maximum of 6 with the army equipped with armed vehicles, tanks, and Pacifiers to take you down no matter what.
Graphics and sound
GTA 2 is the first title in the series to feature 3D graphics, the texture quality is better, and the game's overall atmosphere is more convincing. The sound part of the game has improved as each area now offers five radio stations from a pool of seven. Also, each gang has its dedicated radio station, and you can even listen to the radio transmitter of the emergency services.
Duration and game modes
GTA 2 features single-player and multiplayer game modes. The multiplayer mode supports up to six players playing on the same map, and additional maps have been designed for a smaller number of players. Finishing the main story will take about 12 hours, and striving to see everything the game offers is likely to take around 27 hours.
What do the reviews say?
Grand Theft Auto 2 has been rated 70/100 on Metacritic and was well-received by players.
"A brilliant delight, offering gruesome pleasure in a new kind of way. Though it is rooted within the original's origins, it offers up a new dimension of gaming that can be appreciated by those looking for something different." (All Game Guide)
Age rating
GTA 2 has been rated PEGI 18 as it contains violence.
check out our tips and tricks for gta games