The best Google Drive add-ons that'll save you time
Google Drive is a great tool to manage your documentation, and writing samples, and collaborate and comment on each other's work. However, you can make your life even easier thanks to the Google add-ons. Read on and see which one could be useful for you and install them right away.
Translate My Sheet
For those of you who work with Google Sheets in different languages
This add-on is particularly handy if you often work with Google Sheets and need to translate text occasionally. Its massive algorithm can translate your document into more than 100 languages with just one click. Download Translate My Sheet here.
Table Styles
To create custom tables
Creating tables in Google Sheets is not easy, especially if you are not 100% confident in your Sheets/Excel skills. Create your own templates, change colors, graphics, and sizes and organize your tables how you want. You can download Table Styles here.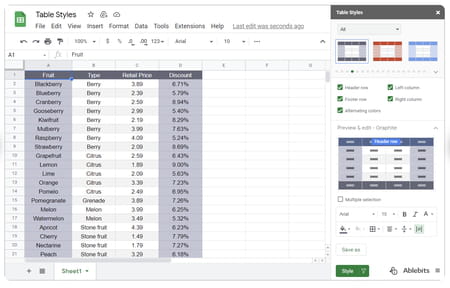 Doc Builder
For those of you who work with contracts or other documents with repeated text
If you often use some parts of the text repeatedly (eg, editing a contract draft/pitch), there is a way you can facilitate copy-pasting. With Doc Builder, you can have these text parts at your fingertips saved for later. You can find them in the sidebar on your Google Doc, so you can easily access them and insert them wherever you need.
Text Cleaner
To clear formatting in a single click
If you work with different sources and have to compile texts or documents using parts of texts from various media, Text Cleaner add-on for Google Docs might come in handy. This add-on helps you to clear formatting in a smart way: you choose the formatting elements before and the app applies them to your text automatically. So no HTML codes are mixed up with different fonts and text alignments. Ideal for doc pedants!
Slides Toolbox
To facilitate your daily work with Google Slides
Slides Toolbox is a helper and time-saver if you often work with Google Slides. It allows you to automatically create a table of contents, export slides, set casing, font size, and more. As a bonus option – you can export all the text from the presentation to a text file.
any more questions about google drive? check out our forum!