If you are looking for a cryptocurrency and Web3-friendly browser that features everything you need to browse securely and privately while sending and receiving blockchain transactions, then you should give Opera Crypto Browser a try. Oh, and it also provides many other cool features.
What is Opera Crypto Browser?
Opera Crypto Browser is the Web3-oriented version of the Opera browser. It features everything you want from the original but specializes in providing the right tools to let you dive into the world of Web3 technology, cryptocurrencies, and NFTs. It is a competitor of other non-custodial wallets but allows you easily incorporate them into your Opera Crypto environment.
What are the key features of Opera Crypto Browser?
Browse securely: Opera Crypto Browser has been designed with security at its core. It features a Secure Clipboard to safely copy and paste sensitive data, a free VPN to hide your real IP address, and a built-in ad-blocker to get rid of trackers and ads.
Crypto Corner: On this start page, you will find up-to-date news related to blockchain and Web3 technology, including blockchain news, gas fees, market sentiments, coin prices, marketplaces, podcasts, NFT galleries, DAOs, and more.
Built-in crypto wallet: You can use it right away and start buying, sending, and receiving cryptocurrencies and NFTs directly from your browser. You don't need to download anything. Furthermore, as a non-custodial wallet, you are 100% in charge of your tokens, so nobody can prevent you from sending or receiving cryptocurrencies.
Flexible: Of course, the crypto wallet natively supports many cryptocurrencies, including Bitcoin, Ethereum, Polygon, BNB Chain, Celo, FIO, Near, and many more. You can also integrate your Binance, Metamask, or Coinbase wallet onto Opera Crypto Browser and quickly get access to them in a single environment.
Layer 2 integrations: Thanks to the Ethereum Layer 2 integration, you can dive deeper into the world of crypto DeFi, connect to more DApps, and take advantage of faster and cheaper transactions.
Crypto domains: Crypto domain resolution allows you to create a domain name that stores all your different addresses from all the different blockchains. That's pretty handy as you no longer need to copy and paste way too long addresses. The good news is that Opera Crypto Browser supports crypto domains, including YAT, ENS, Unstoppable Domains, and FIO. And, of course, you can directly send cryptocurrencies to a YAT address.
Stay connected: You have direct access to Discord, Twitter, and Telegram right from the sidebar.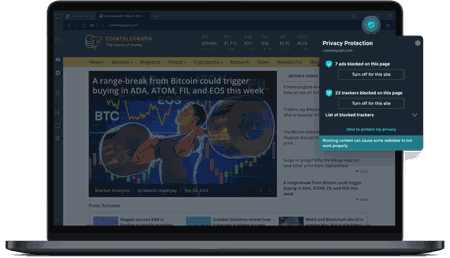 How to use Opera Crypto Browser?
Once installed, it is pretty straightforward, as there is no need to register for anything. You can browse the web securely and activate the free VPN. You can also open the integrated crypto wallet, import existing wallets from other platforms, and start connecting to your favorite DApps. If you want to take a break, click on the Opera Crypto Browser blue icon and consult the latest news.
Is it free?
Yes, it is free to use.
Is it safe?
It seems Opera Crypto Browser has no history of data leaks, so it should be as safe as any other modern browser. You can check the privacy policy on the official website. Remember this is a non-custodial wallet, so you are responsible for noting and remembering your wallet words. Make sure you never communicate these words to anyone unless you want other people to be able to control your funds. Anyone claiming to need these words to help you is a fraud.
check out our tips and tricks for opera