Google Chrome includes a hidden feature to display the frame rate of webpages. To enable it follow the steps outlined in this brief article.
How to enable FPS meter in Dev Tools?
Open Google Chrome.
Go into settings, and then More Tools and select Developer Tools
The Developer Tools window will open. Here you need to go the Command Menu. You can use the Control+Shift+P (Windows) or the Command + Shift + P (Mac) shortcuts.
Type Frames Per Second (FPS) meter and then select.
The frames per second meter looks like this: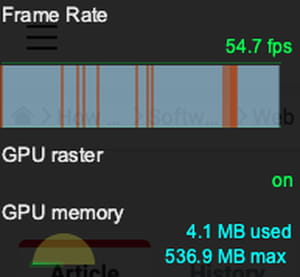 Alternatively, you can use this Google Chome extension: FPS extension
Need more help with Google? Check out our Forum!