Remove Java HD Popups
During your browsing session, you might be redirected to a webpage displaying the below message: You might need to install Java HD and continue /Please install Java HD and continue (required). You will also encounter such popups when browsing on illegal streaming websites. In this article, we will show you how to get rid of the malware displaying these popups!
How to get rid of Java HD popups?
AdwCleaner
AdwCleaner is freeware that can manage the removal of most PUPs, adware, browser hijackers and malicious toolbars.
Download the latest version of AdwCleaner.
Launch the program and click on Scan
Once the scan is completed, click on the Clean
Restart your computer if necessary.
Malwarebytes Anti-Malware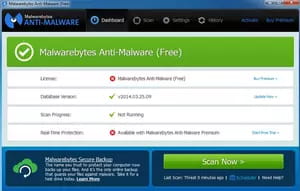 © Malwarebytes
Download and install Download Malwarebytes' Anti-Malware
Click on the Updates tab > Search for updates.
Launch a full scan.
Once the scan is complete, click on "Show results".
Select any detected items and click "Remove Selected".
If prompted to restart the PC, click on Accept.
Clean your web browsers
Uninstall parasite extensions:

On Firefox: Go to Tools > Add-ons > Extension tab.
On Google Chrome: Click the menu at the top-right and then Tools > Extensions.
Note that: In the case you are unable to uninstall the extension under Google Chrome, simply reset your browser settings.
Going further
You should be careful when installing free programs, as many of them are bundled with PUPs.
Read the EULA before downloading a software and always retrieve programs from official sources.
Otherwise, if you use Avast! or AVG, remember to enable the detection of PUPs.
WOT can help you to filter websites that contain harmful programs.
SpyHunter - Beware of fake security blogs
When you perform a Google search on Movie Toolbar- Fake security blogs are displayed in the result pages
These sites offer disinfection solutions in the form of a fix (specific tools).
This fix could be a paid anti-spyware (SpyHunter or Spyware Doctor)!
These fake blogs earn money for each successful installation or sale of the anti-spyware.
If you've downloaded SpyHunter or Spyware Doctor, we recommend that you uninstall this software, as free alternatives exists.
More information about fake security blogs: https://forum.malekal.com/viewtopic.php?t=12847&start=.
Check out our forum for more browser related issues