Recover Gmail password: via phone number, security questions
Forgetting the password to your Gmail account can be a huge inconvenience, especially when it is linked to other Google services. If you have forgotten your password and can no longer access your Gmail account, here are a few quick steps to get it back.
How to recover your Gmail password?
On the Gmail sign-in page click on Forgot password.
You'll be asked to type the last password you remember: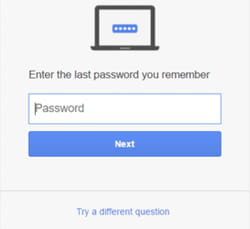 If you don't remember it, click Try a different question.
Enter the secondary email address to receive a recovery email.
Enter the code into the corresponding window and you will regain access to your Gmail account. This way, you could set up a new password.
If you don't have another email linked to your Google account, you can also use your mobile phone and receive a verification code on it.
Google no longer supports security questions so there is no possibility to recover your password via them.
N.B. If you haven't accessed your account for 9 months or more, Gmail may have considered your account as abandoned and deleted it from the server. In this case, account recovery is no longer possible.
Do you need more help with Gmail? Check out our forum!